The Memorial House "Cezar Petrescu" from Busteni is a branch of the History and Archeology Museum from Prahova District.
It was founded on 17th December 1967. The House is situated in Busteni, a very dear town to Cezar Petrescu who settled here in 1937 and lived here for the rest of his life.
Cezar Petrescu became a celebrated writer after publishing his first volume "Scrisorile unui razes" which was awarded both by The Romanian Academy and the Society of the Romanian Writers and in 1928, upon publishing his two volumes of short stories and his first novel "Intunecare", a complex epic on the realities of his age.
Visiting hours: Tuesday to Sunday 9.00 -17.00
Monday: Closed
Tel./Fax: +40244 321 080
e-mail: muzeul_cezarpetrescu@yahoo.com

Adress: Bușteni, str. Tudor Vladimirescu, no. 2
On foot: 32 min (2.8Km);
By car: 6 min;
Click on the map …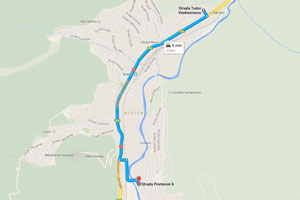 Source: ro.scribd.com