Sinaia Monastery- dates back 300 years ago, and it is constantly guarding the town of Sinaia, being its spiritual symbol.
It comprises many sites: the small church which was built by Spatar Mihai Cantacuzino-1695, he also named it Sinaia after the name of Sinai Monastery where he had been on a pilgrimage.
According to a Slav text on a codices from Saint Sava monastery in Palestine, "in the year 1682, the month of April, 26, there were here Lady Ilinca the mother of the ruler with his son, Spatarul Mihai and his daughter, Stanca.
Of all the religious monuments in the area, Mihai Cantacuzino was impressed especially by the Sinai Monastery.
The paintings in the small Church was made by the famous Parvu Mutu-Zugravu (1657-1735).
The big Church- was built under the surveillance of Iaosaf and Paisie superiors between 1843 and 1846, during the reign of Bibescu Voda.
It has been the first religious settlement in Romania being electrically illuminated.
The museum of Sinaia monastery is the first religious museum in Romania, being built in 1895, celebrating 200 year of its existence.
The bell tower was built in 1892, the bell which was brought from the Coltea Tower from Bucharest was molded (1775) and remolded (1914) and it weights 1700 kg.
The tomb of Tache Ionescu, a well-known politician, who was born in Ploiesti, and who dedicated his entire life to uniting the Romanian people.

Manastirii street, No. 2 Sinaia, Prahova,
By car: 11 min (7.5 Km);
Click on the map …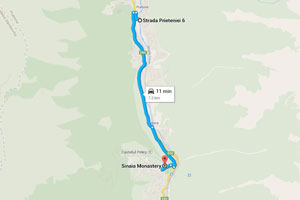 Source: www.primariasinaia.ro