The Sinaia Casino- located in the northern part of Dimitrie Ghica park, the Casino from Sinaia is still a landmark of the resort.
The beautiful building was constructed in a very short time, a year (1912-1913), on the location where there used to be the Ghica villa, the first villa in the resort, built by prince Dimitrie Ghica. The main shareholder was the baron of Marcay, also one of the shareholders of the Casino in Monte Carlo, this was why it had been speculated that this building had been built as copy of this famous casino.
In true there are only a few resemblances between the two edifices, these pertaining only to the interior design. The opening of the Sinaia Casino in 1913 represented a very important event which was chaired by Alexandru Davilla, a very important personality of the period.
At the magnificent show, important personalities had attended, among whom we mention the members of the royal family and Titu Maiorescu, the Prime Minister.
The memorable event had its peak through the concert performed by George Enescu, and ultimately followed by a fireworks show.
Due to its beauty and ways of entertainment, the Casino soon became an important tourist attraction and an important source of income for its owners. Nowadays, due to its historical inheritance, architectural impressiveness and constantly modernizing, the monument is subordinated to Local Council of Sinaia and hosts the International Conference Center.
Carol I street, No. 2 Sinaia, Prahova,
By car: 9 min (6.8km);
Click on the map …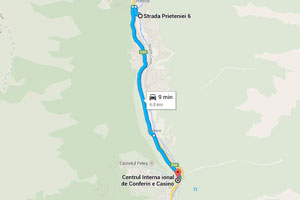 Source: www.casino-sinaia.ro