Urlatoarea waterfall is a special attraction. It is situated under the foot of the Jepi, above Poiana Tapului, where the brook falls from a height of 15 m.
Besides the main fall, there are smaller ones, smaller but as spectacular, Urlatoarea Mare and Urlatoarea mica.
The name is connected not only with the noise created by the falling water, but also with the roar of the waters, increasing in quantity after heavy rains.
Urlatoarea waterfall is in Busteni and the path towards it starts from the cable car in Busteni. It is a 30 min. walk.
By car: 10 min (3.4km);
Click on the map …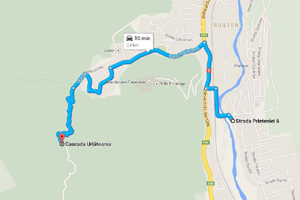 Source: www.welcometoromania.ro